Compared with foreign developed cities, housing prices in the four places of going north to Shenzhen and Hong Kong ranked in the top 10.
There is a difference between houses at home and abroad, that is, shared area. China's commercial housing has a shared area, while foreign commercial housing does not have this concept, which leads to the use area of China's commercial housing is only 80% of that of foreign countries. In other words, a house with more than 80 square meters abroad is equivalent to 100 square meters in China.
If the same area is calculated, the real housing prices in Beijing, Shenzhen and Shanghai are 150126 yuan / square meter, 142968 yuan / square meter and 141008 yuan / square meter respectively. This level has exceeded New York, London, Paris, Tokyo city and so on, only inferior to Hongkong.
So, how long does it take ordinary residents to start the real estate in first tier cities?
According to media data, Hong Kong ranks first with 47.36, and the house price income ratios of Beijing, Shanghai and Shenzhen are 44.35, 43.96 and 40.14 respectively. In other words, the housing prices in China's core cities can only be affordable for ordinary people if they don't eat or drink for more than 40 years.
If the shared area is deducted, this figure will become larger. North, Shanghai and Shenzhen reached 63.36, 62.8 and 57.34 respectively, far exceeding Hong Kong and becoming the city with the highest burden of buying a house in the world. In other words, in Beijing and Shanghai, ordinary people have to eat or drink for 63 years to buy a suite.
Expensive house prices limit the development of many businesses. For example, Chinese people don't want to have children.
和国外发达城市相比,北上深港四地房价排进前十。
国内外房子存在一个不同,就是公摊面积。中国的商品房均有公摊面积,而国外的商品房没有这个概念,这就导致中国商品房的使用面积只有国外的80%,换句话来说,国外80多平的房子相当于国内的100平。
如果按照同等面积来计算,北京、深圳和上海中心区,真实房价分别为150126元 /平方米、142968元 /平方米和141008元 /平方米,这个水平,已经超过纽约、伦敦、巴黎、东京等城市,仅次于香港。
那么,普通居民需要多长时间才能入手一线城市的房产呢?
据媒体数据显示,香港以47.36排名第一,北京、上海、深圳的房价收入比分别以44.35、43.96、40.14。也就是说,中国这些核心城市的房价,普通人要不吃不喝40年以上才能买得起。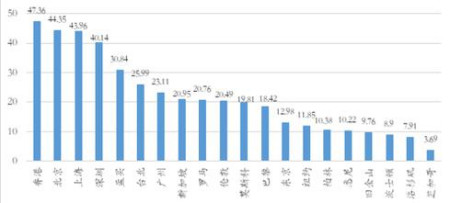 如果扣除公摊面积,这个数字会变得更大。北上深分别达到63.36、62.8和 57.34,远远超过香港,成为全球买房负担最高的城市。也就是说,在北京上海,普通人要63年不吃不喝才能买套房。